https://sbt-test.azurewebsites.net/articles/e/digital-worksheets-classroom
Teaching your classes remotely? Classroom going paperless and you want to make some digital worksheets? Using Storyboard That for summaries and visuals? Or looking to take app smashing out of a project and integrate it into the everyday classroom? For classrooms that are 1:1, app smashing doesn't have to be regulated to a special project, it can be something that happens during every lesson! In fact, you're probably already doing it in your everyday class without even knowing.
Using the worksheets and projects you create on Storyboard That also helps when it comes time to show your school how your students are progressing. Gone are the days of scanning a binder full of worksheets. Now you have annotated and completed worksheets that are saved as PDFs to add to a digital binder. It's so easy to create worksheets on Storyboard That, and it should be easy to show off your teaching skills as well!
With the multitudes of export functions Storyboard That has to offer, it's easy to find something that can work with another application. The PDF export is perfect for creating a document that students can annotate or fill in. We found some great apps that you can upload your custom worksheets to and make it easy for your students to access them.
Suggested Apps for Smashing
Kami
Kami is an extension that integrates with Google Drive and Google Classroom! Students can open the worksheet PDF from Google Drive right into the Kami app and highlight, annotate, and hand write their answers.
Once they have finished, they can save the PDF right to their Drive, and can turn in assignments super easily so you'll never have to wonder where their work is.
Squid Notes
Squid Notes is a fun-named, powerful application that allows you to upload a PDF and push it out to your students to complete through their accounts. When they're finished, you can correct them on Squid! This is especially great if you want students to hand write their answers rather than typing them on the Storyboard Creator with a worksheet template, and it gives you the opportunity to make detailed corrections depending on the assignment.
Microsoft OneNote
If your school already has Office 365, then using Microsoft OneNote with the worksheets and storyboards you created is so easy. Otherwise, it's easy to get access to no matter what your school uses. Their Class Notebook add-on is made for use with your class, and allows for collaboration if you want students to complete worksheets and assignments together.
PDF Example with Kami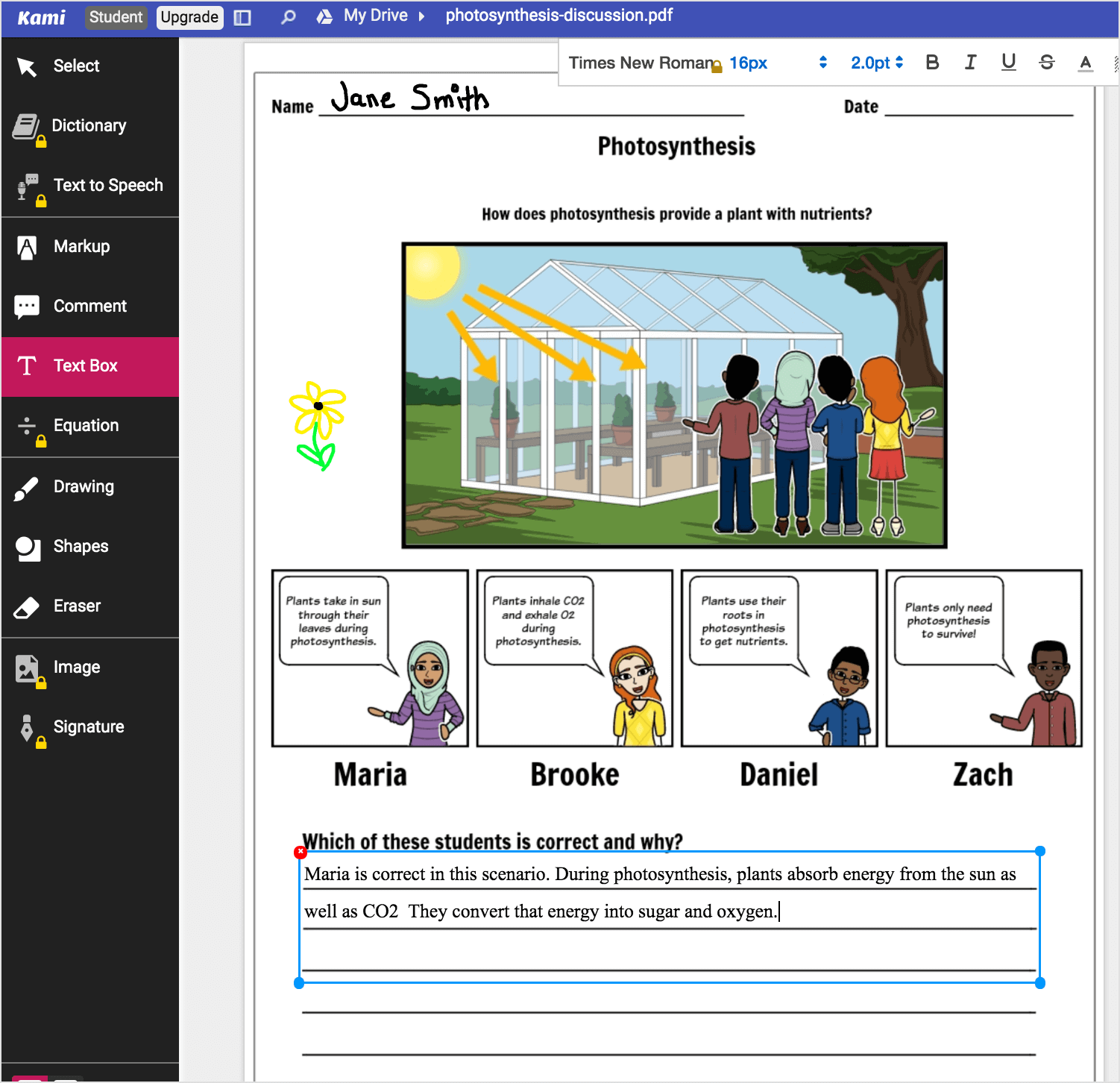 Getting Started
If you're looking for some ideas on how you can incorporate your custom Storyboard That worksheets in the classroom, look no further.
Create math worksheets where students have the ability to show their work more easily rather than just provide the answer. This allows you to see where they might need extra guidance in the next math lesson.


Provide space for students to draw complex science diagrams and processes based on prompts you've created for chemistry, biology, and more. These can be prompts made in our worksheet creator or image prompts made with storyboards! Discussion worksheets and storyboards are a perfect example of how to incorporate image prompts into a project. Students can fill in what they know and even have these discussions outside of the classroom by sharing their work.


Have students follow along with the lesson by using guided notes worksheets or plot storyboards that you created. You can create a custom template for each unit and story or just use the same note taking outline (like our Cornell Notes templates) for every lesson and color code sections, no need to worry about not having a color printer!
Create bell ringers and push them out to students to complete at the beginning or end of the class period. Students will be able to access these any time from their devices, which will let them see how much they've learned and what elements they'll need to focus on more when studying for tests.


Have students annotate their classmate's storyboards, providing feedback, comments, and pointing out details they enjoyed about the image. When working with ELA classes, students can see what their classmates pulled from the story. For history classes, students can make notes on each other's timelines to help them make their final drafts the best it can be. This is a fun way for students to review the material and practice the drafting cycle.
In an age of digital teaching and remote learning, having the ability to create customized worksheets tailored to your students and have students be able to fill them out on their device are game changers. If you're looking for our worksheet templates, you can find them here. Get started today, and watch your students grow!
*(This will start a 2-Week Free Trial - No Credit Card Needed)