What is a Timeline?

A timeline is a type of graphic organizer that shows specific events in sequence, usually with dates, in a linear fashion. Timelines are particularly useful for studying or reviewing history, because the timeline will visually display major events over a period of time. Storyboard That adds another dimension beyond dates and descriptions, by making it easy to illustrate important events!
Timelines help you:
Put Events in Chronological Order
Show Progress or Change
Chronicle Historical Events
Using Timelines in the Classroom
Many people believe timelines are simply for historical events, but they can be used for more! Graphic organizers can be used for multiple purposes, and the same is true for the timeline, including timelines for reading.
History
English Language Arts
Classroom Management
Other Ideas

Timeline of Historical Period
Progression of a Topic Through the Ages (i.e. history of baseball)

Events Leading up to the Climax of a Story
Biography of a Person's Life

A Typical Day's Schedule
Sequence of Steps

Scientific Observations Over Time
Project Schedule
Take a look at some of the possibilities!
---
English Language Arts
Non-fiction and historical fiction can especially benefit from timelines. When reading a story that takes place in a historical setting or learning about authors, it is necessary to understand the context. A timeline can help establish important events and attitudes during a specific era.
Example ELA Timeline Activities
Events Leading up to the Climax of a Story
Biography of a Person's Life
Historical Context of Setting
The 13 Clocks Sequence of Events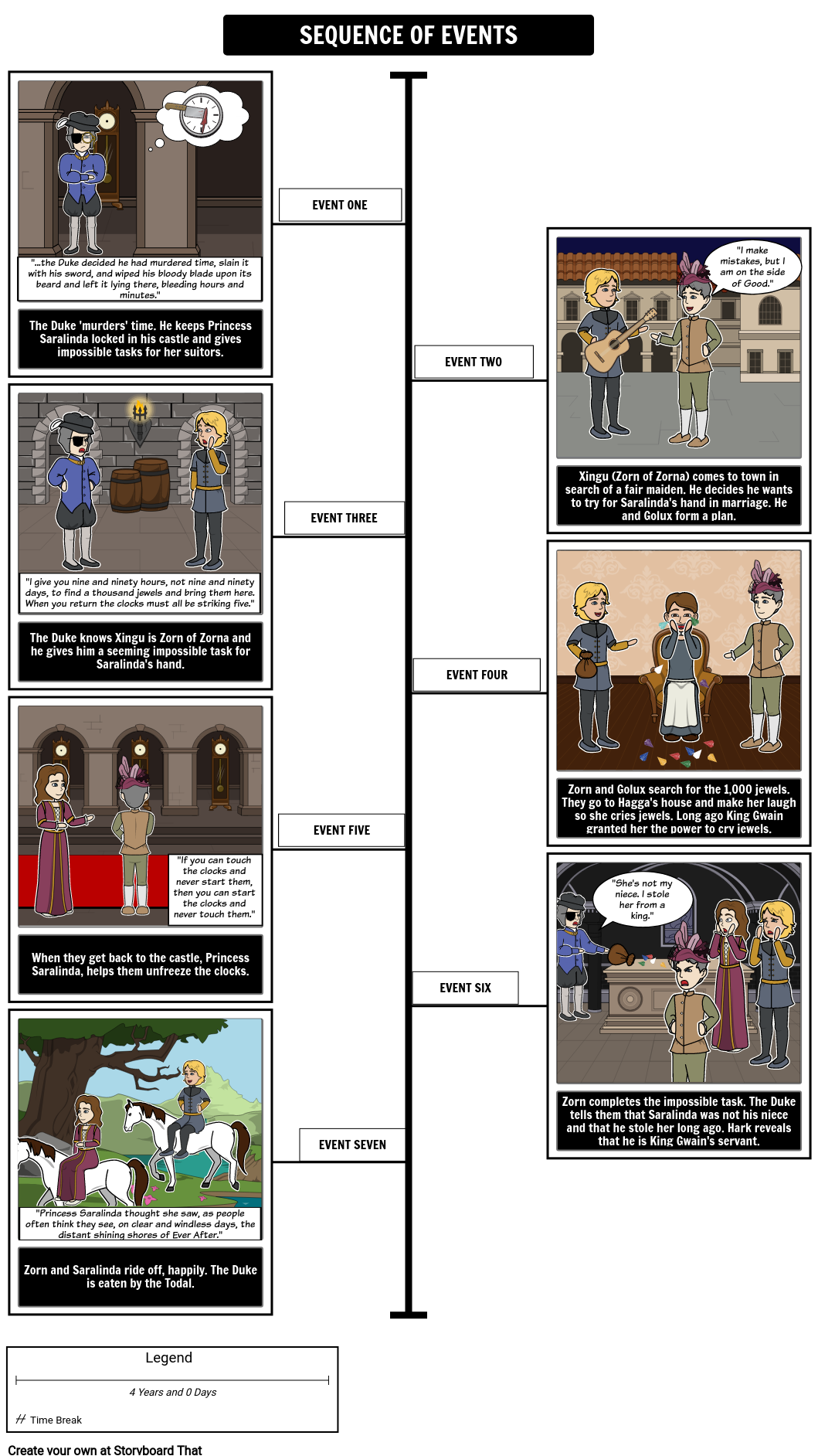 ---
Applications for Special Education
A timeline can be a great tool for students with special education! Many students benefit from visual representations as reminders, particularly for schedules and step-by-step processes. The timeline layout on Storyboard That has a visual component for easy recognition and progression in a linear format to show the passage of time or order of steps.
What if I don't want dates?
The timeline is still a valuable tool for sequencing events, giving directions, making a schedule, and more - even if you do not want to include a date. In order to make a timeline on Storyboard That, you must enter in at least a year value for each cell you want to include. Change the dates at any time by clicking on "Timeline Dates". If you cover up the dates with Textables, shapes, or even characters, the information you enter for the years can be as simple as 1, 2, 3. Literally! Put Textables over the dates and label as you please (Event 1, 2, 3; First, Next, Then; Step 1, 2, 3, etc.)
For some ideas on using the timeline layout with labels rather than dates, take a look at this graphic organizer that uses the timeline layout:
Timeline - No Dates