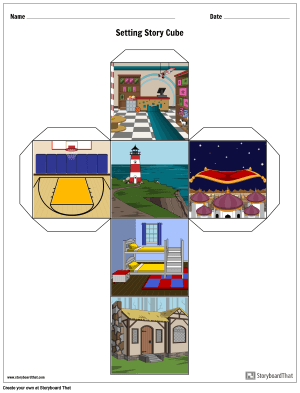 What are Story Cubes?
Story cubes are dice with special topics on each side, such as setting, characters, or theme. Students are meant to roll these dice at random and to write a story using the information from the roll.
Why are they important and how are they best used?
Writing can be very challenging for many people. Story cubes are useful because teachers can provide six pre-selected ideas for each element, and the rolling of the dice makes the student more engaged, as in a game. Use story cubes to piece together a quick oral story, or have students craft more involved written assignments. Story cubes can provide both assistance for struggling storytellers, and also can challenge more accomplished writers with creative constraints!
Story Cube Printable Templates
To make a story cube printable, click the "Customize this Example" button below. Once you're in the Storyboard Creator, click on each of the elements on the template to change them to fit your needs. When you're done, hit save and follow the instructions. You can print off your worksheet from the next screen, or it will be saved to your account.
Happy Creating!
*(This will start a 2-Week Free Trial - No Credit Card Needed)