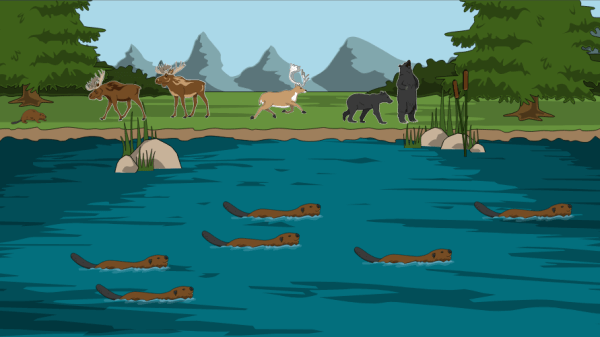 Canada is located in North America, just north of the United States. It is the second largest country in the world, with Russia being the first. Canada is known for its beautiful landscape, lakes, and wildlife. The following activities will teach students about Canada's impressive geography, provinces and territories, natural resources, national symbols, and treasured wildlife.
Student Activities for Geography of Canada
Canadian Geography and Resources
Geography
The geography of Canada is diverse and impressive, with features such as several lakes, vast mountain ranges, rolling central plains, rivers, and forests. The Canadian Shield, which is a hilly region of swamps and lakes, is a large part of Northern Canada. The northern part of Canada is cold, icy, and filled with glaciers.
Natural Resources
Many natural resources can be found in Canada, but fresh water is by far the most important to Canadians. Some of the other natural resources that are abundant in Canada are oil, trees, minerals such as gold, silver, and copper, fish, and coal.
Symbols
Over the years, Canada has formally adopted many symbols. A few examples include:
The Maple Leaf: As early as the 1700s, Canada's Indigenous peoples used the maple tree for sap, and the maple leaf was chosen as a national emblem in 1848.
The Beaver: In the late 1600s and early 1700s, beaver pelts were in high demand amongst fur traders. They generated so much profit that the beaver was eventually considered a national symbol. Although it was widely appreciated and loved, the beaver was near extinction by the mid 1900s due to the high demand for its fur. It became an official emblem of Canada in March of 1975.
The National Anthem: The national anthem of Canada is called "O Canada". The song was composed in the late 1800s and adopted as the national song on July 1, 1980.
Canadian Flag: The Canadian flag consists of a red field with a white square at the center, and a red maple leaf in the middle. It was adopted on February 15, 1965.
The Canadian Horse: The Canadian horse is an important part of Canadian history and heritage. These horses were extremely useful to the settlers many years ago; they helped cultivate soil, served as transportation, made roads, and were entertaining to the people. The Canadian horse was made into an official symbol of Canada on April 30, 2002.
Nature and Wildlife
Canada is home to a large variety of wildlife due to its vast forests and many lakes and rivers. Some of the animal species that are abundant in Canada are beavers, deer, bears, mountain lions, and bighorn sheep. The fresh water lakes and rivers contain many types of fish such as salmon and trout. Canada's prairies are the home of bison and antelope, while the evergreen forests farther north are where you can find moose and black bears. Native wildlife is important to Canadians, and they work hard to preserve it.
Provinces, Territories, and their Capitals
| State | Capital |
| --- | --- |
| Canada | Country capital: Ottawa |
| Alberta | Edmonton |
| British Columbia | Victoria |
| Manitoba | Winnipeg |
| New Brunswick | Fredericton |
| Newfoundland and Labrador | St. John's |
| Nova Scotia | Halifax |
| Ontario | Toronto |
| Prince Edward Island | Charlottetown |
| Quebec | Quebec City |
| Saskatchewan | Regina |
| Territory: Northern Territories | Yellowknife |
| Territory: Nunavut | Iqaluit |
| Territory: Yukon | Whitehorse |
Essential Questions for The Geography of Canada
What are the geographical features of Canada?
What are the provinces and territories in Canada?
What are some of the natural resources found in Canada?
What are some important Canadian symbols?