https://sbt-test.azurewebsites.net/lesson-plans/once-by-morris-gleitzman/text-connection
Activity Overview
Once is written in the first person, and told by a ten year old boy. The language and the way that Felix talks is childlike, innocent, and wildly creative. Children will enjoy discovering their favorite part of the story, and the way that it is told. For this activity, students will choose one part or quote, and create a storyboard that illustrates what it means to them.
Having students choose a favorite quote or scene from a book allows them to express which parts of the story resonated with them on a personal level. In this way, students are making a text-to-self connection that demonstrates their understanding of the characters and their development or the themes of the novel. Students can share their storyboards afterwards and have a short discussion about what the quotes mean to them.
Some students may end up choosing the same quote, but have different perspectives. This is always interesting for students to see and can open up a discussion as to how not everyone can read the same lines in the same way based on their own perspectives and personal experiences.
Due Date:
Objective: Create a storyboard that identifies your favorite quote or scene in Once. Illustrate your quote and write what it means to you.
Student Instructions:
Click "Start Assignment".
Choose a favorite quote or scene from Once.
Create an image that represents this quote using appropriate scenes, characters and items.
In the description box, write the quote and at least one sentence about what this quote means to you.
Save often!
Requirements: Quote, illustration, 1-2 sentences about what it means to you.
Lesson Plan Reference
Grade Level 6-8
Difficulty Level 3 (Developing to Mastery)
Type of Assignment Individual
Common Core Standards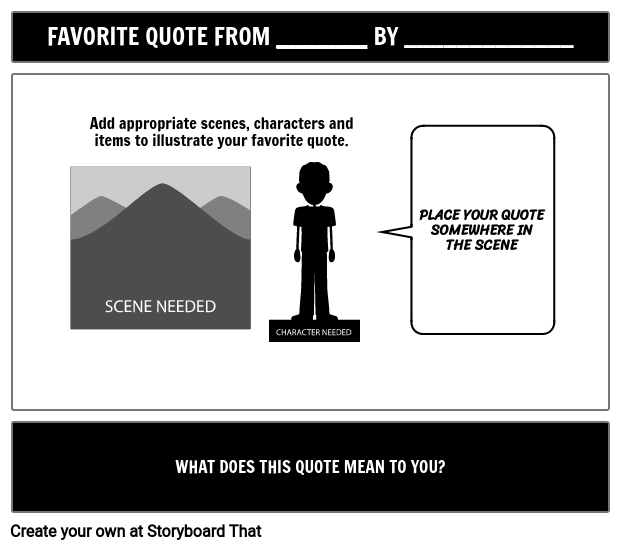 *(This will start a 2-Week Free Trial - No Credit Card Needed)
https://sbt-test.azurewebsites.net/lesson-plans/once-by-morris-gleitzman/text-connection
© 2021 - Clever Prototypes, LLC - All rights reserved.