https://sbt-test.azurewebsites.net/lesson-plans/one-crazy-summer-by-rita-williams-garcia/vocabulary
Activity Overview
Starting a unit or lesson with the key vocabulary that students will come across in the book aids in overall comprehension and retention. In this activity, students will create a storyboard that defines and illustrates key vocabulary related to One Crazy Summer.
Students will preview the terms and definitions and use whole class or small group discussion to demonstrate their understanding of each meaning. This can be done at the beginning of each chapter so that students can preview what they will read or teachers could decide to do at the end of a chapter as an assessment. When students define and illustrate each term, they master the application of it and retain it as part of their lexicon.
Examples of Vocabulary from One Crazy Summer by Rita Williams-Garcia:
brace
spectacle
terminal
judgement
riot
homely
descent
immigrant
pout
scold
spectacular
disgrace
surge
litter
anxious
appalled
gawk
recite
poverty
fugitive
indignant
revolution
militant
treason
inseparable
rouge
protest
rage
atone
Due Date:
Objective: Create a storyboard that defines and illustrates vocabulary in One Crazy Summer.
Student Instructions:
Click "Start Assignment".
In the title boxes, identify the key terms you have chosen.
In the description boxes, write the definition of the term.
Create an illustration for each term using appropriate scenes, characters, and items.
Save and submit your storyboard.
Requirements: Must have 3 terms, correct definitions, and appropriate illustrations for each that demonstrate your understanding of the words.
Lesson Plan Reference
Grade Level 6-8
Difficulty Level 2 (Reinforcing / Developing)
Type of Assignment Individual
Type of Activity: Visual Vocabulary Boards
Common Core Standards
[ELA-Literacy/L/9-10/3] Apply knowledge of language to understand how language functions in different contexts, to make effective choices for meaning or style, and to comprehend more fully when reading or listening
[ELA-Literacy/L/9-10/4] Determine or clarify the meaning of unknown and multiple-meaning words and phrases based on grades 9-10 reading and content, choosing flexibly from a range of strategies
[ELA-Literacy/L/9-10/6] Acquire and use accurately general academic and domain-specific words and phrases, sufficient for reading, writing, speaking, and listening at the college and career readiness level; demonstrate independence in gathering vocabulary knowledge when considering a word or phrase important to comprehension or expression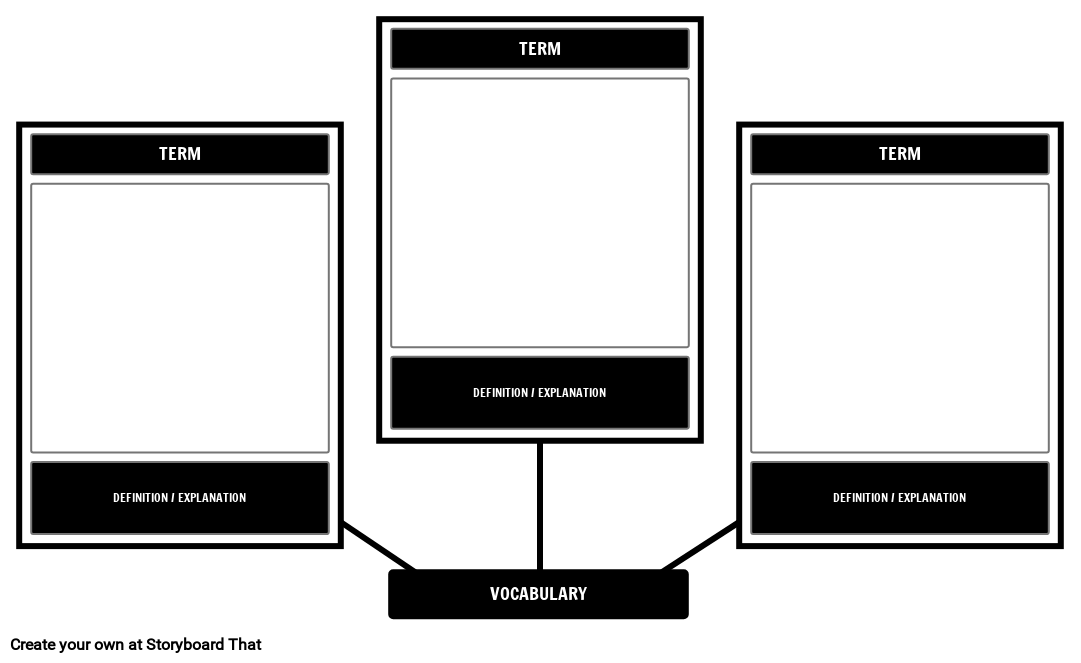 Define and illustrate each of the key terms.
Proficient
7 Points
Emerging
4 Points
Beginning
1 Points

The vocabulary words are correctly defined.

The meaning of the vocabulary words can be understood but it is somewhat unclear.

The vocabulary word is not clearly defined

The storyboard illustrations clearly depict the meaning of the vocabulary words.

The illustrations relate to the meaning of the vocabulary words but it they are difficult to understand.

The illustrations do not clearly relate to the meaning of the vocabulary words.

Work is well written and carefully thought out.

Work shows some evidence of effort.

Work shows little evidence of any effort.
*(This will start a 2-Week Free Trial - No Credit Card Needed)
https://sbt-test.azurewebsites.net/lesson-plans/one-crazy-summer-by-rita-williams-garcia/vocabulary
© 2021 - Clever Prototypes, LLC - All rights reserved.