Welcome to Storyboard That's Illustrated Guide to English Phrasal Verbs! We have put together a collection of storyboards to help you better understand the meaning of phrasal verbs. We hope you enjoy this guide as much as we enjoyed making it, and maybe you will make a few storyboards of your own!
Click on any of the terms below to get started!
How Do I Use This?
The illustrated guide storyboards have easily digestible information with a visual to stimulate understanding and retention. Storyboard That is passionate about student agency, and we want everyone to be storytellers. Storyboards provide an excellent medium to showcase what students have learned, and to teach to others.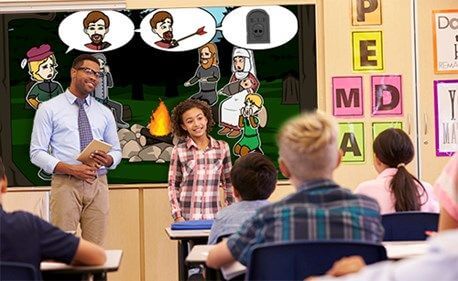 Use these illustrated guides as a springboard for individual and class-wide projects!
Assign a term/person/event to each student to complete their own storyboard
Create your own illustrated guide of a topic you are studying
Create an illustrated guide to the people in your class or school
Post storyboards to class and school social media channels
Copy and edit these storyboards and use as references or visuals
Take a look at some visuals to help understand the use of phrasal verbs in our
Illustrated Guide to English Phrasal Verbs
!
*(This will start a 2-Week Free Trial - No Credit Card Needed)