To seem to have a particular personality trait or make a certain impression
To meet or find someone or something unexpectedly

Example Sentences for the English Phrasal Verb Come Across
I came across a $100 bill while I was walking to work this morning!
They didn't like how Brandon came across during the interview, so they hired Alex instead.
Did you come across a phone while you were cleaning last night? I think I left it here.
Steve comes across as an idiot in this TV show.
Yesterday I came across an injured cat on the side of the road. I think somebody had hit it with their car and driven off.
The English phrasal verb, to come across, can be transitive or intransitive.
English Phrasal Verbs
Phrasal verbs can be extremely tricky for learners of English. The reason for this is twofold: there are lots of them and their meaning is not always obvious from the words that make them up. To make things even more difficult, phrasal verbs can have multiple meanings, adding to the headache for learners.
A phrasal verb is made up of a main verb with an attached preposition or adverb. An example of a phrasal verb is run into. Where run is the main verb and into is the preposition. Phrasal verbs can be separated into two groups, intransitive and transitive verbs. Intransitive phrasal verbs do not have a direct object: go out, for example, "I want to go out tonight". Transitive phrasal verbs have a direct object and they can be split up into two further categories: separable and inseparable. With separable transitive phrasal verbs, the verb and the preposition can be split up. For example, both "turn off the radio" and "turn the radio off" are both correct. Inseparable phrasal verbs cannot be split up. For example, "I'll look after you" is correct, but "I'll look you after" is not.
Using Storyboard That you can prepare a visual dictionary of phrasal verbs quickly and easily. Even better than that, have your students create their own phrasal verb visual definitions.
How Do I Use This?
The picture encyclopedia storyboards have easily digestible information with a visual to stimulate understanding and retention. Storyboard That is passionate about student agency, and we want everyone to be storytellers. Storyboards provide an excellent medium to showcase what students have learned, and to teach to others.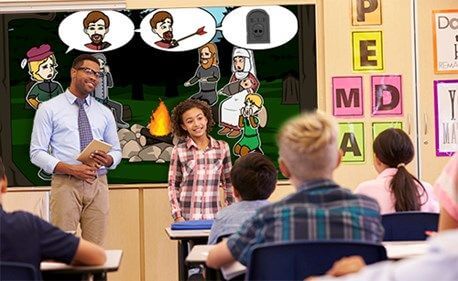 Use these encyclopedias as a springboard for individual and class-wide projects!
Assign a term/person/event to each student to complete their own storyboard
Create your own picture encyclopedia of a topic you are studying
Create a picture encyclopedia to the people in your class or school
Post storyboards to class and school social media channels
Copy and edit these storyboards and use as references or visuals
Take a look at some visuals to help understand the use of phrasal verbs in our
Picture Encyclopedia of English Phrasal Verbs
!
*(This will start a 2-Week Free Trial - No Credit Card Needed)