To add more until it is full
To Fill Up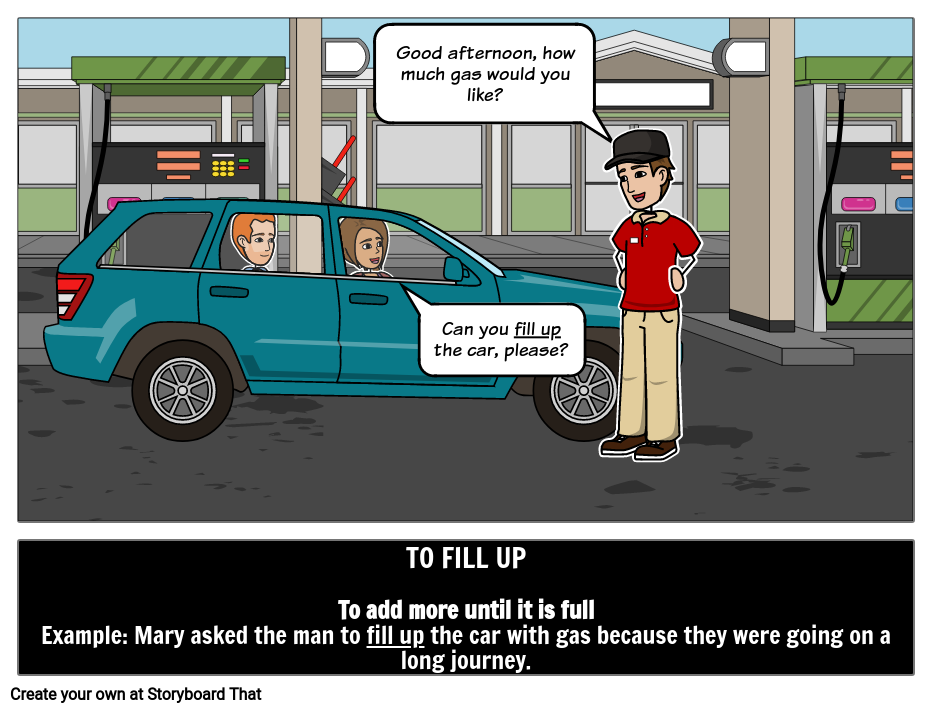 Example Sentences for the English Phrasal Verb Fill Up
The pilot made sure that the airplane had been filled up before taking off.
Andy's mom wouldn't allow him to fill up on junk food before dinner.
By the time they had finished cleaning Rashad's room, they had filled up three trash bags.
It was Oscar's job to fill up the jars with jelly.
She filled the tea kettle up with water before she put it on the stove.
The English phrasal verb, to fill up, can be transitive or intransitive.
English Phrasal Verbs
Phrasal verbs can be extremely tricky for learners of English. The reason for this is twofold: there are lots of them and their meaning is not always obvious from the words that make them up. To make things even more difficult, phrasal verbs can have multiple meanings, adding to the headache for learners.
A phrasal verb is made up of a main verb with an attached preposition or adverb. An example of a phrasal verb is run into. Where run is the main verb and into is the preposition. Phrasal verbs can be separated into two groups, intransitive and transitive verbs. Intransitive phrasal verbs do not have a direct object: go out, for example, "I want to go out tonight". Transitive phrasal verbs have a direct object and they can be split up into two further categories: separable and inseparable. With separable transitive phrasal verbs, the verb and the preposition can be split up. For example, both "turn off the radio" and "turn the radio off" are both correct. Inseparable phrasal verbs cannot be split up. For example, "I'll look after you" is correct, but "I'll look you after" is not.
Using Storyboard That you can prepare a visual dictionary of phrasal verbs quickly and easily. Even better than that, have your students create their own phrasal verb visual definitions.