To wear clothing to see whether it is the right size or if it looks nice
To Try On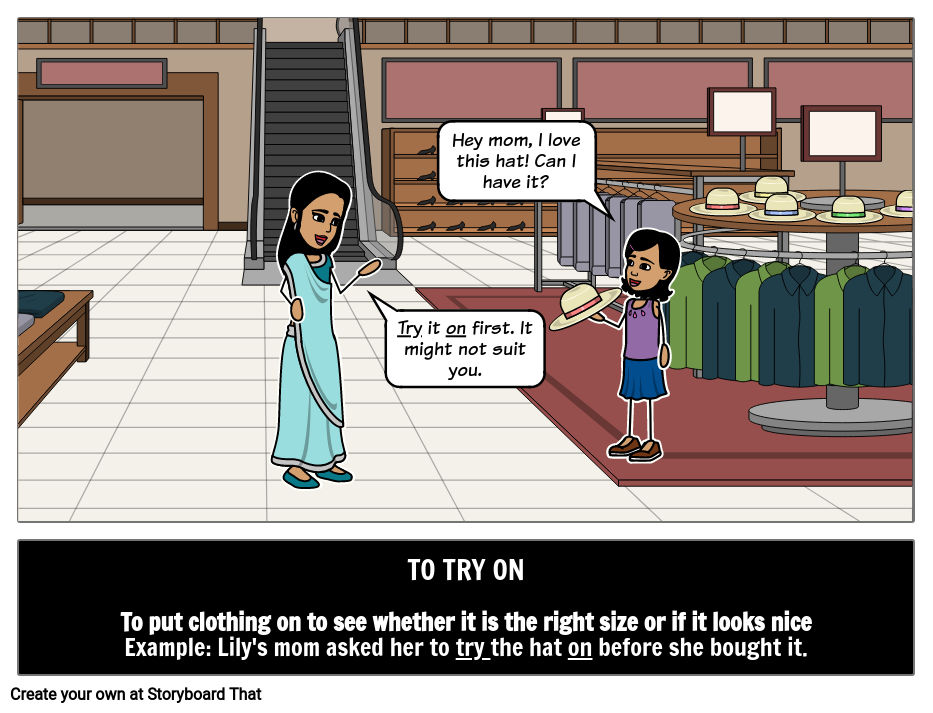 Example Sentences for the English Phrasal Verb Try On
She tried on the skirt, but it was too big.
It is important to try on new shoes before you buy them.
Mary tried on 50 different dresses before finding the perfect one for her wedding day.
Michael tried the bow tie on, but thought he looked stupid.
The shop had a room that could be used by people to try on clothes.
The English phrasal verb, to try on, is transitive and separable.
English Phrasal Verbs
Phrasal verbs can be extremely tricky for learners of English. The reason for this is twofold: there are lots of them and their meaning is not always obvious from the words that make them up. To make things even more difficult, phrasal verbs can have multiple meanings, adding to the headache for learners.
A phrasal verb is made up of a main verb with an attached preposition or adverb. An example of a phrasal verb is run into. Where run is the main verb and into is the preposition. Phrasal verbs can be separated into two groups, intransitive and transitive verbs. Intransitive phrasal verbs do not have a direct object: go out, for example, "I want to go out tonight". Transitive phrasal verbs have a direct object and they can be split up into two further categories: separable and inseparable. With separable transitive phrasal verbs, the verb and the preposition can be split up. For example, both "turn off the radio" and "turn the radio off" are both correct. Inseparable phrasal verbs cannot be split up. For example, "I'll look after you" is correct, but "I'll look you after" is not.
Using Storyboard That you can prepare a visual dictionary of phrasal verbs quickly and easily. Even better than that, have your students create their own phrasal verb visual definitions.